Today we would like to show you a little more about our
Casual Valencia de las Artes hotel.
Of the five hotels we have in Valencia, this one is very close to the City of Arts and Sciences. It is a very cozy hotel, and whether you come as a couple, in a group or as a family, it has large rooms with large and very comfortable beds for everyone. All the rooms are dedicated to great classical and contemporary artists but with one point in common, their works refer to the sea or the beach. Because... what would Valencia be without the sea and its beaches? It's hard to imagine. Let's start then with the Valencian artist par excellence, the great
Joaquín Sorolla
, the painter of light, who knew how to capture the light of the Valencian beaches like no other. And as an example we have dedicated a room to his painting 'The Three Candles' that he painted on Malvarrosa beach in 1903.
Another painting that we love is Monet 's 'Trouville Beach', an impressionist work with two women in the foreground with their umbrellas and the beach in the background. You can also rest watching the Saintes Maries beach and its fishing boats, a painting by Van Gogh that inspires a lot of serenity. If you prefer, you can also choose a more classic work such as 'The Birth of Venus' by Botticelli , a beautiful painting that shows the arrival of the goddess of love, on a shell, on the beach. Hotel near the City of Arts and Sciences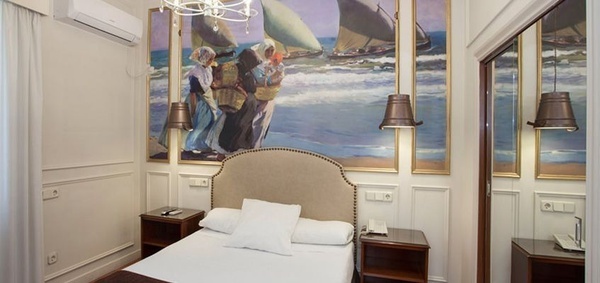 In addition to being a hotel near the City of Arts and Sciences, and with a good connection to public transport to go anywhere, our Casual Valencia de Las Artes is next to the Mestalla soccer field, where Valencia usually plays. CF. But let's continue with the rooms and their works of art. One work that will mesmerize you is Gustav Klimt 's 'Water Serpents II', where he depicts nude mermaids in water. A room that you will love. What do you like more surrealism? We also have a room on Dalí 's 'The Persistence of Memory', with its melting clocks and the sea in the background. A brigantine on the high seas, a sailboat at sunset or the view of a lighthouse are other options that await you at Casual Valencia de las Artes.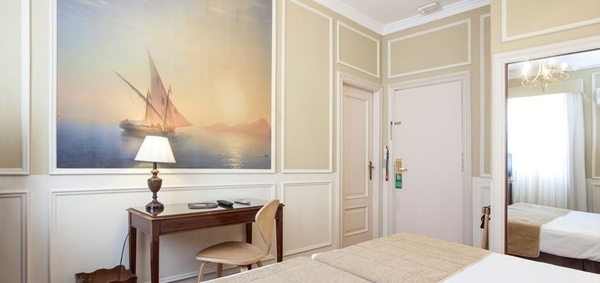 And if being surrounded by sea and beaches leaves you wanting to take a dip, don't worry, because we also have a heated pool and sauna at Casual Valencia de las Artes. A luxury. Of course, you will also have all the Casual Hotels services, such as free Wi-Fi in the hotel and a mobile pack to have internet on your visit to the city, buffet breakfast and a free baby pack with a stroller, baby carrier, mini cot and portable bathtub, thanks to The Adventurer Baby.
Comments