Looking for dog-friendly hotels? Well, we are going to propose an idea that you will like. For many of us our pets are one of the family. And when we prepare a getaway or a vacation, we do it thinking that our dog will come with us. That is why we have signed an agreement with Tiendanimal to adapt our facilities to the needs of pets and travelers. In this way we became the first hotel chain in Spain with all its Pet Friendly establishments.
This agreement is part of the Tiendanimal #nosinmimascota campaign, which aims to put an end to the abandonment of pets during the holidays. Within this campaign, customers are encouraged to send and share photos with their "best four-legged friends" during trips. This shows that you can travel with them, and that it is also much better for everyone. Because there are more and more hotels that allow dogs in the main cities, as part of an awareness movement in which we have decidedly wanted to get involved.
Hotels for pets in Madrid, Valencia, Seville and Bilbao
In our hotels in Madrid, Valencia, Seville and Bilbao you can bring your pet without any problem. Your little canine friend will have his bed to sleep in, his feeder and drinker, thanks to Tiendanimal , and also, if he is a gobbler, don't worry, he will also have his welcome snack. Oh, and also a portable drinking fountain to make sightseeing with them much easier. We want traveling dogs! You just have to indicate at the time of booking that you are coming with your pet and we will prepare the room so that it feels like home. At Casual Hotels your dog will always be welcome. This way your pet will have many more stories to tell to his friends in the park when he comes back from vacation ;-)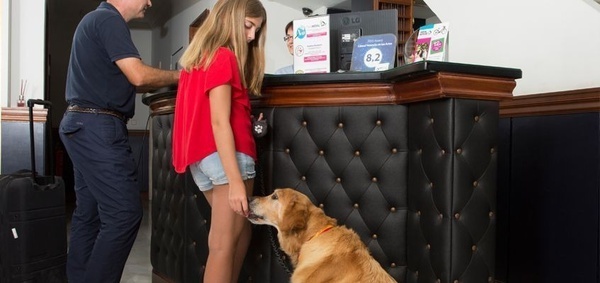 Remember that at Casual Hotels we try to make your visit to the city as comfortable as possible. In addition to coming with pets, if your trip is with the family, remember that you can request our Baby Pack. Totally free if you book on our website. With this pack we will provide you with a travel cot, mini stroller, portable bathtub and baby carrier backpack. All this thanks to our agreement with The Adventurer Baby . As you can see, at Casual Hotels we like to surround ourselves with responsible companies focused on travelers like us. We love being an ideal hotel to travel with the family.
Comments