Summer is about to start. Mercury already marks temperatures that invite bathing. Winter clothes have already been banished from our closets and the days are getting longer and hotter. Yes, it definitely smells like summer already. And on vacation!
However, this summer season also brings bad news. That of the increase in the
abandonment of animals,
since in summer they seem to become a nuisance for some families at this time. According to data from
Patasbox
, of the almost 150,000 abandonments that take place each year, more than half take place during the summer. And from Casual Hotels we want to collaborate, for this reason, we offer you to enjoy your
holidays with a pet
staying in our pet
-friendly themed hotels.
Charming places to enjoy with your faithful friend without any hassle.
Holidays with a pet, the best option
It's nice to enjoy holidays with a pet, not leaving your dog or cat alone... and that they can enjoy our free time with us, that's why Casual Hotels is the first hotel chain in Spain with all its Pet establishments Friendly . We know that your pet is one of the family, that's why we make it very easy for you to travel with him or her. If you book your stay with us through our website, pets stay for free and, in addition, we include the Pet Pack at no cost: bed, drinker, feeder and various snacks to satisfy their needs and make them feel as comfortable as possible in this new environment for them. oh! and a portable drinking fountain, so they can stay hydrated while visiting the city. As good friends of animals, we think about their well-being both inside and outside the hotel so that your holidays with a pet are perfect anywhere.
In addition, to help put an end to animal abandonment, we collaborate with the Patasbox summer campaign,
"Summer at home"
, which seeks to raise awareness in society about this great problem. If you also want to collaborate, you just have to share a photo with your pet on Instagram or Facebook with the hashtag #Elveranoencasa with @Patasbox.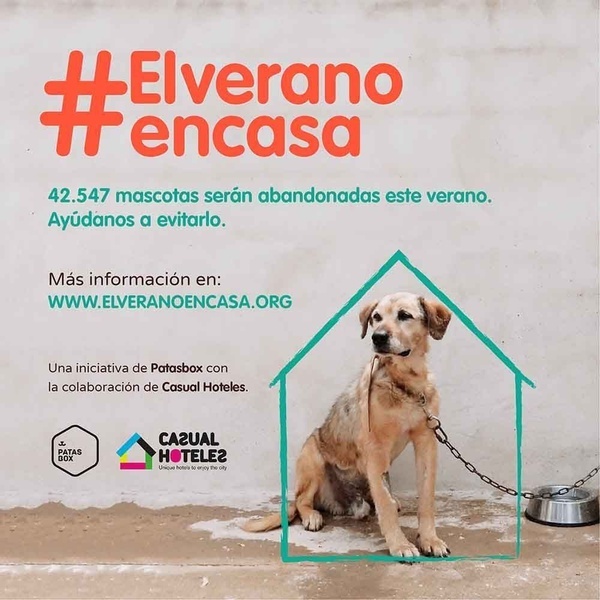 Comments