More than one couple has thought that they would like to spend a night in a hotel inspired by their favorite movie.
Stay with your favorite characters, your fetish actors or actresses, or wake up immersed in a story that you have seen hundreds of times on the screen.
At
Casual Hotels
we offer you to make your dream come true. Each of our hotels has a different personality and design. Today we are going to focus on the Seventh Art and that is because the
Casual Valencia del Cine
hotel has all its rooms inspired and themed in your favorite movies. Oh!, and in that of the little ones.
If you like action movies, keep Ethan Hunt company in his Mission Impossible , the first of many that would come later. We will never forget the famous scene where Tom Cruise is hanging from a rope and can't even drop a sweat. Of course, we recommend responsibility if you are going to do it in the room ;-)
Sleeping in a movie-inspired hotel shouldn't end up on the floor because of a miscalculation. If you prefer science fiction enter the world of Matrix . Do you remember the famous rain of binary codes? From then on it was known as the "Matrix effect".
You can also sleep in Avatar 's room and immerse yourself in the world of Pandora with its blue beings and feline eyes.
Spielberg and his immersion in the world of dinosaurs in Jurassic Park also has his room in Casual Valencia del Cine.
The most geeks will also be delighted, as a very special room dedicated to
Star Trek
with Mr. Spock and the famous Enterprise ship awaits them. Shall we practice the Vulcan salute? In this case we also have themed rooms of the saga in our
Casual Valencia Vintage
, very close, in the Plaza del Ayuntamiento. This way you will have more options to sleep in a hotel inspired by the cinema and your favorite characters. As for the suspense genre, we have a room that pays homage to the greatest,
Alfred Hitchcock
. But don't worry, you will sleep peacefully and without nightmares.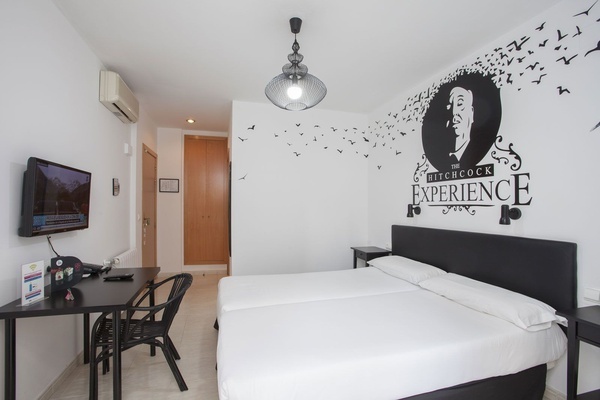 And for the most romantic… the room dedicated to Titanic , which will delight fans of this film, where we will always remember Leonardo DiCaprio shouting "I am the king of the world". And the star room of the hotel, for children and not so children, is dedicated to today's most famous magician and his two friends.
And since the little ones are the kings of the house and at Casual Hotels we love traveling families, we have spacious and comfortable rooms to make you feel at home. In addition, we propose a super complete post about 7 plans to discover Valencia as a family.
Comments