If you plan to go to Valencia to see the Fallas with the children, from Casual Hotels we wholeheartedly encourage you to come and enjoy with your family . An opportunity to do something different. It will be an unforgettable getaway.
Las Fallas is a party in which children will go crazy when they see the diversity of giant monuments, fireworks and the atmosphere that is generated by the streets of Valencia. It is a very appetizing madness!
We start with the Mascletà at 2:00 p.m. and it takes place in the Plaza del Ayuntamiento, very close to our Casual Vintage Valencia hotel, which has a viewpoint where you can see it quietly, from March 1 to 19. It is not necessary to see all but one because the sensation you will experience will be unique and the children will hallucinate for life . Sure!.
Of course, it is advisable to go in advance to find a comfortable place and avoid crowds as much as possible, since with children it can be a bit overwhelming. To prevent, always take the appropriate security measures.
Of course, don't miss the Firework Displays at midnight, from March 15 to 18. To see them you have to go to Paseo de Alameda, next to the old bed of the Túria. Above all, if you are at dawn on the 18th, you should not miss La Nit del Foc , the most important.
We agree that the color, light and sound of fireworks is what attracts the most attention and the little ones like it. Enjoy like them!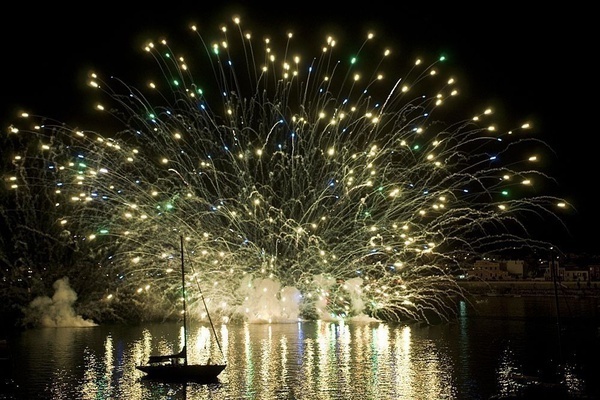 Visits to the most representative fallas
On March 17 and 18 is the offering of flowers to the Virgen de los Desamparados, patron saint of Valencia. The place is flooded with a wonderful smell of flowers and a great color. Do not miss it!
Another great plan is to walk through the different neighborhoods of Valencia and see the Fallas monuments, both large and children's, which are put up from March 15. The children will love it, we leave you a great route:
https://www.valenciablog.com/fallas/
And of course, you have to savor the Valencian Xocolatà with the little ones, which you can buy at any of the street stalls during these holidays. If you still have energy left at the end of the day, you can take a walk around the city. It is when it is most illuminated and beautiful.
Finally, on the night of the 19th is the Cremà, where all the fallas are burned. At 10 p.m. children's monuments and about 24 h. the big monuments. It will be a spectacular experience. If you are already looking forward to visiting Valencia in Fallas, we recommend you book a hotel as soon as possible. At Casual hotels we offer triple and quadruple family themed rooms. Discover them on our website.
We are waiting for you with great pleasure!
Comments