If you are looking for a
hotel inspired by Star Wars,
we offer you a very special room. In December, the first spin-off of the saga created by
George Lucas, Rogue One,
is finally released. And it's time to live it as it deserves. And no, it's not sleeping with Chewaka or Han Solo. In our
Casual Valencia Vintage
we have a proposal for the Force to be with you. And as an example we give you the video of one of our clients, who received as a gift to sleep in a room completely inspired by Star Wars. He enjoyed it like never before. The room, decorated with images of the most classic versions, is for nostalgics. You'll sleep with Han Solo, Princess Leia, R2-D2, Darth Vader, and of course, the Death Star. Although it is one of the most requested, so make your reservation by calling the hotel directly and ask for it to be a surprise, so we can prepare everything if you want your partner to know nothing.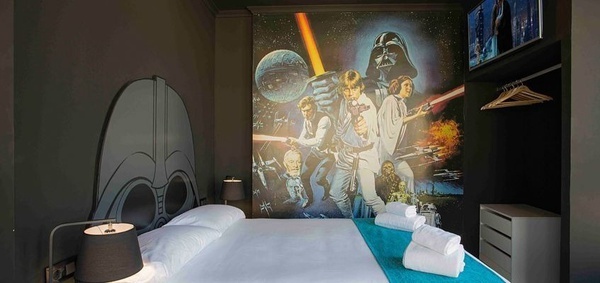 TOP hotel inspired by Star Wars
As with every premiere of the Star Wars saga, we are very excited to see it and we are sure that it will not disappoint us. And so that the wait is not too hard, we will tell you a little more about Rogue One. In this new film they tell us how a group of rebels intends to steal the plans of The Death Star, the destructive weapon of the Galactic Empire to deliver them to the Leaders of the Rebel Alliance. To do this they must face the dark Darth Vader. So Star Wars fans: don't miss out on your Star Wars-inspired hotel room. And as if that were not enough, with impressive views of the Plaza del Ayuntamiento de Valencia.
You no longer have excuses not to give yourself a getaway to Valencia. In addition to the hotel, it has many activities around the city, with leisure, gastronomy, a lot of culture and of course, the beach. Come to our room if you are looking for a hotel inspired by Star Wars and live the Star Wars in your dreams. Call us and ask about the options.
Comments