Zurriola beach in San Sebastián could seem, especially between spring and autumn, like any surfing city in California or Australia. Surfing is one of the great protagonists of Donostia , which hosts numerous competitions throughout the year.
The waves of the capital of Guipúzcoa, which reach from half a meter to 6 meters, are a great tourist attraction . Not in vain, around 6,500 tourists from the United States, France, Holland, Canada, Germany or Australia travel to this paradise every year to catch its waves and experience a unique sensation of freedom and adrenaline rush there. In addition, it is estimated that this activity contributes more than 8 million to the GDP of San Sebastián.
And it is that, spring is undoubtedly an ideal time of year for surf lovers:
The temperature of the water begins to rise
You can enjoy more than 12 hours of sunlight
The beaches are calmer.
It is a perfect time to get started in this sport.
The Gros neighbourhood, very close to Zurriola beach, breaks out with surf on all four sides. On the promenade there are numerous shops dedicated to the sale and repair of boards, wetsuits, as well as many schools.
Our
Hotel Casual de las Olas
, opened this year and located in Plaza Pío XII, is also an ode to the sea and surfing. Inspired by the power and beauty of the waves, its 61 rooms immerse you in incredible marine corners.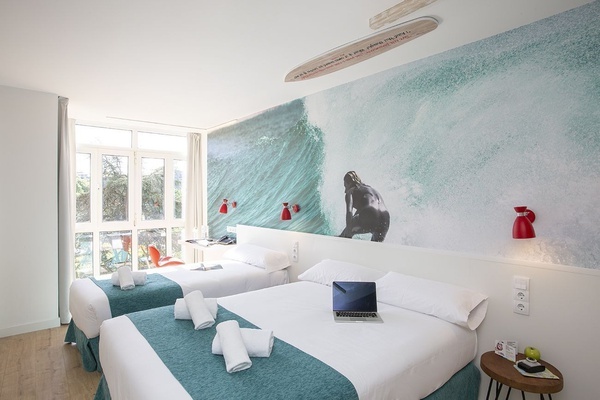 And behind each wave and each beach, there are many attractions that are open to surfers and other visitors. Donostia perfectly combines avant-garde and tradition and offers culture, leisure and gastronomy. Do not miss La Concha beach, majestic buildings such as the Town Hall or Mount Urgull.
After an intense day of surfing, nothing better than entering a sea of spikes. One of the perfect places to taste them is the Old Town.
Comments